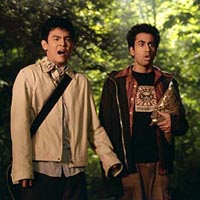 Harold & Kumar
CBUB Wins: 1
CBUB Losses: 3
Win Percentage: 25.00%
Added by: Mullon
Read more about Harold & Kumar at: Wikipedia
Official Site: New Line Cinema
Harold & Kumar is a stoner comedy film series starring John Cho and Kal Penn. The first film was released on July 30, 2004, by New Line Cinema, and spawned a sequel, released four years later.
The two films, produced on a total budget of US$ million, grossed $67.4 million worldwide. Critics have given the films mostly positive reviews. The series has been released on both Blu-ray and DVD.
Harold Lee and Kumar Patel are two stoner who get the munchies and embark on a quest throughout New Jersey for White Castle burgers after seeing a TV commercial for the same. On their way they encounter many obstacles, including a gang of extreme sports punks, a raccoon with an attitude, a group of Asian nerds, an unlikely married couple who are Jesus freaks and sex seekers, a racist police officer, a cheetah which has escaped from a zoo, and an out-of-control Neil Patrick Harris.
Immediately following the events of Harold & Kumar Go to White Castle, Harold Lee and Kumar Patel fly to Amsterdam so Harold can pursue a budding romance with his vacationing neighbor. Upon arrival at the airport, Kumar creates trouble while going through security in order to get weed on the plane. The pair run into Vanessa, Kumar's ex-girlfriend, and her fiancé Colton, another old college buddy who helped Harold get his job at Brewster-Keagan, at the airport. Harold and Kumar board the plane, and mid-flight, an old woman sees Kumar lighting his new invention, a smokeless bong. She mistakes it for a bomb, and screams "Terrorist!", causing the passengers to be alerted to Kumar holding the bong. After a mis-communication between "bong" and "bomb", undercover air marshals tackle Kumar; he drops the bong on the floor, which breaks and emits a pleasant-smelling, though visible, gas, prompting another passenger to scream "Poison Gas!" Air marshals tackle them and order the plane to return to Washington D.C., where Ron Fox, the neurotic Deputy Secretary of Homeland Security, sends them to the Guantanamo Bay detention camp. Just before they are forced to eat a so-called "cockmeat sandwich" or perform fellatio, they escape and sneak into Florida with the help of some Cuban refugees. They go to see a friend of theirs, Raza, who is hosting a bottomless party and he encourages them to travel to Texas in search of Colton, with hopes that he will be able to help them through his father, who is connected with several high political officials.
No match records for this character.