| | |
| --- | --- |
| Character sourced from: Horror | |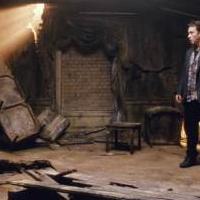 Room 1408
CBUB Wins: 2
CBUB Losses: 10
Win Percentage: 16.67%
Added by: Nosferatu
Read more about Room 1408 at: Wikipedia
Official Site: The Weinstein Company (Film)
1408 is a 2007 American horror film based on the Stephen King short story of the same name directed by Swedish director Mikael Håfström, who earlier had directed the horror film Drowning Ghost. The cast includes John Cusack, Samuel L. Jackson, and Mary McCormack. The film was released in the U.S. on June 22, 2007, although July 13 (a Friday the 13th) is mentioned as the release date in the trailer posted on the website.
The film follows Mike Enslin, an author who specializes in the horror genre. Enslin's career is essentially based on investigating allegedly haunted houses, although his repeatedly unfruitful studies have left him disillusioned and pessimistic. Through an anonymous warning (via postcard), Enslin eventually learns of the Dolphin Hotel in New York City, which houses the infamous "Room 1408". Interested yet skeptical, Enslin decides to spend one night in the hotel although manager Olin (Jackson) warns him strongly against it. Enslin encounters a series of bizarre experiences in the room.
Mike Enslin (John Cusack) is a skeptic and author who, after the death of his daughter, Katie (Jasmine Jessica Anthony), writes books confirming and rating supernatural vacation spots (such as haunted inns) despite his knowing they are fake. After his latest book, he receives an anonymous postcard from The Dolphin, a very old but rather posh hotel on 61st Street in New York City, bearing the message "don't enter 1408". Viewing this as a challenge, Enslin attempts to book a reservation for room 1408, but the hotel will not rent him the room. However, after being informed by Enslin's agent, Sam Farrell (Tony Shalhoub), that the Fair Housing Act requires hotels to rent unoccupied rooms, the Dolphin reluctantly reserves room 1408 for Enslin.
Arriving at the Dolphin, Enslin is pulled aside by the hotel manager, Gerald Olin (Samuel L. Jackson), who warns him that no one has lasted more than an hour in 1408. Olin offers Enslin an upgrade to the penthouse suite, access to documents regarding the deaths in 1408, and an $800 bottle of cognac if Enslin would abandon his plan to stay at 1408. Enslin accepts the documents and the cognac but insists on staying in the room and ridicules the belief in ghosts. Olin outright dismisses the possibility of ghosts, saying only that 1408 is "an evil fucking room" before giving Enslin the key.
No match records for this character.