| | |
| --- | --- |
| Character sourced from: Gaming | |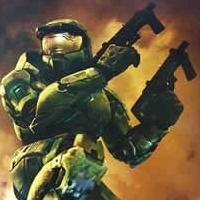 Master Chief
CBUB Wins: 50
CBUB Losses: 29
Win Percentage: 63.29%
Added by: Dragoon3k5
Read more about Master Chief at: Wikipedia
Official Site: Bungie
Master Chief Petty Officer John-117 is a fictional character and the main protagonist of the Halo universe, created by video game developer Bungie. Master Chief is a playable character in the trilogy of science fiction first-person shooter video games Halo: Combat Evolved, Halo 2, and Halo 3. Outside of video games, the character appears in the novels Halo: The Fall of Reach, Halo: The Flood, Halo: First Strike, and Halo: Uprising, and has cameos in Halo media including Halo Reach, Halo: Ghosts of Onyx, The Halo Graphic Novel and Halo Legends. He is voiced by Chicago disc jockey Steve Downes in the video games in which he appears.
The Master Chief is one of the most visible symbols of the Halo series. Originally designed by Bungie artists including Marcus Lehto, Rob McLees, and Shi Kai Wang, the character is a towering and faceless cybernetically enhanced supersoldier; he is never seen without his green-colored armor or helmet. Downes built his personification of the Chief off a character description which called for a Clint Eastwood-type character of few words.
The Master Chief has been called a video game icon, a relative newcomer among more established franchise characters, such as Mario, Sonic the Hedgehog, and Lara Croft. While a widely known figure, the Master Chief has received mixed reception. Reviewers such as Kotaku have pointed to the Chief's silent and faceless nature as a weakness to the character, while other publications have stated that this attribute allows players to better assume the role of the Master Chief. Gaming magazine Electronic Gaming Monthly named the Master Chief as the eighth greatest video game character ever.
The task of developing the Master Chief for the character's first appearance in Halo: Combat Evolved fell on Rob McLees and the project's Art Director, Marcus Lehto. Eventually, Shi Kai Wang was hired for conceptual art. One of Wang's sketches was accepted and became the basis for the Master Chief; however, after Wang's version was converted to a 3-D model, it was decided the character looked too slender, "almost effeminate".