| | |
| --- | --- |
| Character sourced from: Toons | |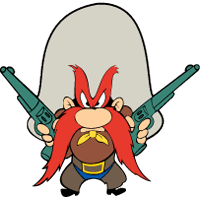 Yosemite Sam
CBUB Wins: 0
CBUB Losses: 4
Win Percentage: 0%
Added by: tygre138
Read more about Yosemite Sam at: Wikipedia
Official Site: warner brothers
Yosemite Sam is an American animated cartoon character in the Looney Tunes and Merrie Melodies series of cartoons produced by Warner Bros. Animation. The name is somewhat alliterative and is inspired by Yosemite National Park. He is commonly depicted as an extremely grouchy gunslinging prospector or cowboy with a hair-trigger temper and an intense hatred of rabbits, particularly Bugs Bunny. Along with Elmer Fudd, he is the de facto archenemy of Bugs Bunny. In cartoons with non-Western themes, he uses various aliases, including "Chilkoot Sam" (named for the Chilkoot Trail; Sam pronounces it "Chilli-koot") in 14 Carrot Rabbit (although in the same cartoon, when he tries to gain Bugs Bunny's trust, he cleverly invents alias "Square-deal Sam"), "Riff Raff Sam" in Sahara Hare, "Sam Schulz" in Big House Bunny, "Seagoin' Sam" in Buccaneer Bunny, "Shanghai Sam" in Mutiny on the Bunny, and "Sam Von Schamm the Hessian" in Bunker Hill Bunny and many others. During the Golden Age of American animation, Yosemite Sam would appear in 33 shorts.
Other characters with Sam-like features appear in several Looney Tunes shorts. The Bugs Bunny entry Super-Rabbit (1943) features the cowboy character "Cottontail Smith", who sounds a lot like Sam. Stage Door Cartoon (1944), another Bugs Bunny offering, features a southern sheriff character that sounds very much like Sam, except for a more defined southern stereotype to his voice. In a Daffy Duck cartoon called Along Came Daffy (1947), Daffy has to contend with two characters who look and sound very much like Sam, one with Sam's red hair and one with black hair. Finally, Pancho's Hideaway (1964) features a Mexican villain who is designed much like Sam but has a different accent. In addition, in the 1949, Chuck Jones-directed cartoon Mississippi Hare, Bugs Bunny battles with an old, pistol-toting gambler called Colonel Shuffle, one whose role could have easily been portrayed by Sam. (The Colonel reappears in "Dog Gone South", this time pitted against Charlie Dog, and accompanied by a bulldog named Belvedere, who resembles Hector the Bulldog).
Freleng created Yosemite Sam to be a more worthy adversary for Bugs Bunny. Until then, Bugs' major foe had been Elmer Fudd, a man so mild-mannered and dim-witted that Freleng thought Bugs actually came off as a bully by duping him. Sam, on the other hand, was extremely violent and belligerent, not at all a pushover like Fudd. Freleng compacted into a tiny body and 11-gallon hat the largest voice and the largest ego "north, south, east, aaaaand west of the Pecos".
For over 19 years, except for one cartoon (Hare-Abian Nights in 1959) Freleng's unit had exclusive usage of Sam at the Warner studio. Though officially a cowboy, Freleng put Sam in a different costume in almost every film: a knight, a Roman legionary, a pirate, a royal cook, a prison guard, a duke (Duke of Yosemite, no less), a Confederate soldier, a mountain climber (climbing the 'Shmadderhorn' mountain in Switzerland), and even a space alien. The humor of the cartoons inevitably springs from the odd miscasting of the hot-tempered cowboy. However, some countries seem to prefer his pirate incarnation, as "Sam the pirate" is his official name in France and a frequent alternative name in Italy.


Images with a green border may be set as the character's main profile image.
For images 200x200 or 300x300 pixels square.