| | |
| --- | --- |
| Character sourced from: Gaming | |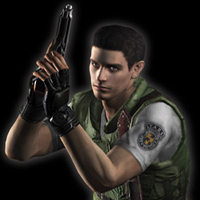 Chris Redfield
CBUB Wins: 6
CBUB Losses: 5
Win Percentage: 54.55%
Added by: lemming
Read more about Chris Redfield at: Wikipedia
Official Site: Capcom
is a fictional character in the Resident Evil video game series. He is one of the two main protagonists in the first Resident Evil game, the other being Jill Valentine. Redfield returned as a playable character in Resident Evil Code: Veronica, where he must search for, and ultimately rescue, his younger sister, Claire. Redfield returned again as a main character in Resident Evil 5, where he works alongside partner Sheva Alomar to search for his old partner and friend, Jill Valentine.
Ben Reeves of Game Informer explores the meaning of Chris Redfield's name, writing that "Christopher is a late Greek name meaning 'bearing Christ.' The name was used by early Christians as a metaphor expressing how they carried Christ in their hearts. Redfield, on the other hand, is a bit redundant. It derives from two words, the Olde English ryd meaning 'a cleared area suitable for agriculture,' and field, another old word meaning 'area cleared for agriculture.' Chris Redfield's full name could be literally taken to mean to carry across fields of fields - symbolic perhaps for all the backtracking he did in the early entries in the Resident Evil series."
Chris was voiced by Michael Filipowich in Code: Veronica, Joe Whyte in the 2002 remake of Resident Evil and Roger Craig Smith in Resident Evil 5 and The Darkside Chronicles. In the Resident Evil 5 viral advertising campaign he was played by Will Lupardus. In Code: Veronica and Resident Evil 5 he was motion captured by Reuben Langdon. He was portrayed by Wentworth Miller in the film Resident Evil: Afterlife.
Chris Redfield first appeared in the original Resident Evil as one of two playable protagonist. In the game, he is a member of STARS' Alpha team, sent to investigate the disappearance of Bravo team. The squad discovers the remains of Bravo team's helicopter, but soon encounter a pack of undead dogs. Chris, accompanied by Albert Wesker, Barry Burton and Jill Valentine, seek refuge in the nearby mansion, which is filled with deadly traps and horrific monsters. Chris' scenario is more challenging than Jill's, as he has a smaller carrying capacity, and lacks certain items, such as the lockpick and grenade launcher, but can take a lot more damage from enemies than Jill can. The original Japanese release of the game features a clip of the live-action character portraying him smoking a cigarette, which was removed in the overseas version of the game, but restored in the PC CD-ROM port. Chris is available in the Extreme Battle mode in Resident Evil 2.





Images with a green border may be set as the character's main profile image.
For images 200x200 or 300x300 pixels square.