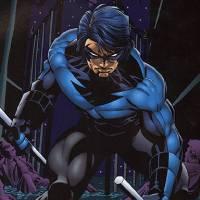 Nightwing
CBUB Wins: 44
CBUB Losses: 24
Win Percentage: 64.71%
Added by: Dragoon3k5
Read more about Nightwing at: Wikipedia
Official Site: DC Comics
: For the British band, see Nightwing (band). For the Marduk album, see Nightwing (album).
Nightwing is a name that has been used by several fictional characters in the DC Comics Universe. It was conceived as a Kryptonian analogue to the character of Batman, with Nightwing's frequent partner Flamebird based on Robin. Both before Crisis on Infinite Earths and after it, the Nightwing persona originates with a Kryptonian vigilante taking the name of the "nightwing", a bird native to the planet Krypton.
Pre-Crisis on Infinite Earths, the identity is created by Superman, when he and Jimmy Olsen act as vigilantes during trips to the bottle city of Kandor. Post-Crisis, the name is attributed to a historic Kryptonian crimefighter; this hero serves as an inspiration for Dick Grayson when he sheds his Robin identity and assumes the name and a new costume. Grayson was featured in an ongoing Nightwing series between 1996 and 2009. The current Nightwing is General Zod's son Chris Kent.
As first depicted in the story "Superman in Kandor" in Superman (vol. 1) #158 (January 1963), Nightwing is an alias used by Superman in Edmond Hamilton-penned pre-Crisis adventures in the city of Kandor, a Kryptonian city that was shrunken and preserved in a bottle. In Kandor, Superman has no superpowers and, in the story, is branded an outlaw there due to a misunderstanding. To disguise themselves, Superman and Jimmy Olsen create vigilante identities inspired by Batman and Robin. Because neither bats nor robins lived on Krypton, Superman chooses the names of two birds owned by Superman's Kandorian friend Nor-Kan: "Nightwing" for himself and "Flamebird" for Olsen. The Dynamic Duo of Kandor create costumes evocative of the birds' plumage. Nightwing and Flamebird rename Nor-Kan's underground laboratory as the "Nightcave", and use it as their secret headquarters. They also convert Nor-Kan's automobile into their "Nightmobile", and use "jet-belts" to fly into battle.















Images with a green border may be set as the character's main profile image.
For images 200x200 or 300x300 pixels square.