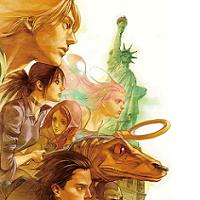 The Runaways
CBUB Wins: 5
CBUB Losses: 2
Win Percentage: 71.43%
Added by: ShadowForge
Read more about The Runaways at: Wikipedia
Official Site: Marvel Comics
Runaways is an award-winning comic book series published by Marvel Comics. The series features a group of teenagers who discover that their parents are part of an evil crime group called the Pride. Created by Brian K. Vaughan and Adrian Alphona, the series debuted in April of 2003. Despite debuting in 2003, the actual series itself was launched in 2002 as part of Marvel Comics' "Tsunami" imprint. The series had been canceled in September 2004 at issue eighteen, but due to high numbers of trade collection sales, Marvel revived the series in February of 2005.
Originally, the series featured a group of six kids whose parents routinely met every year for a charity event. One year, the kids spy on their parents and learn they are "the Pride", a criminal group of mob bosses, time-travelers, dark wizards, mad scientists, alien invaders and telepathic mutants. The kids steal weapons and resources from their parents, and learn they themselves inherited their parents' powers; Alex Wilder, a prodigy, leads the team while Nico Minoru learns she is a powerful witch, Karolina Dean discovers she is an alien, Gertrude Yorkes learns of her telepathic link to a dinosaur, Chase Stein steals his father's futuristic gloves, while young Molly Hayes learns she is a mutant with incredible strength. The kids band together and defeat their parents, and atone for the sins of their parents by fighting the new threats trying to fill in the Pride's void. With the deaths of Alex and Gertrude, they are later joined by cyborg Victor Mancha, shape-shifting Skrull Xavin, and plant-manipulator Klara Prast.
Ever since the original groups' introduction, the Runaways have been portrayed as a somewhat dysfunctional yet loving family. Series creators Brian K. Vaughan and Adrian Alphona left the series at issue twenty-four of the title's second volume. The second volume was continued by Joss Whedon and Michael Ryan until they departed at issue thirty. Writer Terry Moore and artist Humberto Ramos became the creative team for two story arcs. After one issue written by Christopher Yost and James Asmus, Kathryn Immonen and Sara Pichelli became the new creative team. The book is currently on hiatus, while the series is being retooled; the last issue released was Volume 3, number 14.
Series creator Brian K. Vaughan pitched Runaways in 2003 as a part of Marvel's Tsunami imprint, the goal of which was to attract new readers, particularly young readers and the manga audience. Marvel editorial staff agreed to it immediately, prompting Wizard Magazine to name the series as "one of the best original concepts from Marvel in thirty years." The Tsunami imprint turned out to be unsuccessful, and the series ended at issue #18. After the series' sales in digests, Vaughan pitched the idea again to Marvel, who accepted it. As of 2009, the series has been in continuous publication since its relaunch - though Volume 2 was ended with issue 30, with the following month seeing the first issue of Volume 3.
No match records for this character.