| | |
| --- | --- |
| Character sourced from: Toons | |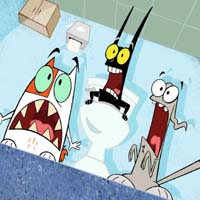 Catscratch Brothers
CBUB Wins: 1
CBUB Losses: 4
Win Percentage: 20.00%
Added by: wishtiger
Read more about Catscratch Brothers at: Wikipedia
Official Site: Nickelodeon
Catscratch is an American animated television series created by Doug TenNapel (the creator of The Neverhood games company, Earthworm Jim) airing on Nickelodeon in 2005 and on Nicktoons Network in late 2007 [http://www.nicktoonsnetwork.com/hotSheet/]. It was also shown on Nickelodeon UK on May 29, 2006 after a sneak peek preview on May 1, 2006 and then on Nicktoons UK on July 31, 2006. It is a light-hearted adaptation of TenNapel's graphic novel, Gear, which is also the name of the cats' monster truck. The series features music composed by longtime TenNapel collaborator, Terry Scott Taylor. Catscratch's first DVD appearance was on Nick Picks which came out February 7, 2006 (though the DVD contained only "Bringin' Down the Mouse"). The final episode aired in the U.S. on February 10, 2007.
Mr. Blik, Gordon, and Waffle were raised in a mega-mansion by Mrs. Edna Cramdilly who left the three her house and every penny of her fortune when she died. But Mr. Blik, Gordon, and Waffle aren't her grandsons; they're her cats. The brothers live a life of freedom, adventure, and usually total mayhem. Whether they're taking on ferocious bear, sea monster, zombie, giant robots, hobo, rock stars, or alien, these wealthy felines just can't keep out of trouble. Their house is normally completely destroyed at the end of episodes, but somehow everything goes back to normal at the beginning of the next episode. The cats also adore Root-Beer.
;Mr. Blik (voiced by Wayne Knight): Mr. Blik is the self-appointed leader of the group who's loud, bossy and brash. It is told that a black cat means bad luck, and this is true for Mr. Blik (because he is a black cat), who gets himself into getting major or near-death injuries. Mr. Blik has yellow eyes and is proud of his newly inherited riches and spends his money on anything and everything that spells respect and power. Mr. Blik is the oldest and always insults his two younger brothers. Mr. Blik's catch phrase is, "Yeah!"
;Gordon Quid (voiced by Rob Paulsen): Gordon is a brave member of the Highland Quid clan and acts like he's from Scotland despite the fact that he is not. However, he speaks with a thick stereotype Scottish accent. He is full of heart, has a soft spot for "Human" Kimberly and loves to sing, which quite regularly irritates his older brother, Mr. Blik. He is also an amazing cook, usually cooking Scottish recipes, which a lot of people don't find edible. He has an orange patch on his right eye and is allergic to both broccoli and chocolate which, if touched, will turn him into a "Mr. Hyde"-like monster. In some episodes, Gordon is shown with green-colored eyes, but in others he has blue. Judging from his short tail, he is a Manx. Gordon also has a mission set before him: Get Mr. Blik to do the right thing. Gordon's catch phrases are, "In the name of the Highland Quid Clan", "Feel my sting.", "Great gopher", "Cheer", and sometimes "Pop a Wheelie!".
No match records for this character.