| | |
| --- | --- |
| Character sourced from: Sci-Fi | |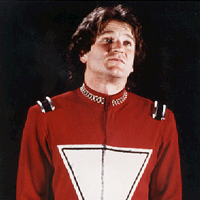 Mork of Ork
CBUB Wins: 1
CBUB Losses: 3
Win Percentage: 25.00%
Added by: Darth Supremus
Read more about Mork of Ork at: Wikipedia
Official Site: ABC
Mork & Mindy is an American science fiction sitcom broadcast from 1978 until 1982 on ABC. The series starred Robin Williams as Mork, an alien who comes to Earth from the planet Ork in a large egg-shaped spaceship. Pam Dawber co-starred as Mindy McConnell, his human friend and roommate. Mork and Mindy married in the show's final season.
The series was a spinoff from the sitcom Happy Days. The character of Mork (then-unknown Robin Williams) first appeared in the season 5 episode "My Favorite Orkan" (a take on 1960s sitcom My Favorite Martian) where he attempts to take Richie Cunningham back to Ork as a human specimen, but his plan is foiled by Fonzie. The character proved to be popular enough with the audience to go forward with the planned series of his own. In Mork & Mindy, Mork resides in Boulder, Colorado in the current day (1978) as opposed to the Happy Days late 1950s setting.
Mork's egg-shaped spacecraft lands on Earth, with a mission to observe human behavior. Mork is assigned his mission by Orson, his mostly-unseen and long-suffering superior (voiced by Ralph James), who has sent Mork to Earth to get him off Ork. To fit in, Mork dresses in Earth clothing (a suit, which he wears backwards). He befriends 21 year old Mindy (Pam Dawber) after she is stranded one evening after an argument with her boyfriend. Mork offers assistance, and Mindy, not seeing his back or the on-backwards suit, assumes he is a priest, mistaking his wardrobe gaffe for a priest's collar. Mindy is taken in by Mork's willingness to listen (unknown to her, he is simply observing her behavior as part of his mission), and the two become friends. They walk back to her apartment, when Mindy sees his backwards suit and Mork's rather unconventional behavior for a priest. She asks him who he really is, and the innocent Mork, having not learned how to lie, tells her the truth.
After discovering Mork is an alien, Mindy promises to keep his true identity a secret and allows him to move into her attic. However, Mindy's father, Fred (Conrad Janis), expresses outrage that his daughter is living with a man (particularly one as bizarre as Mork). Fred's mother-in-law, Cora (Elizabeth Kerr), presents a much less conservative view, and approves of Mork and the living arrangement. Mindy and Cora also work at Fred's music store where Cora gives music lessons to a young child named Eugene (Jeffrey Jacquet), who becomes Mork's friend. Also seen occasionally was Mindy's snooty old friend from high school, Susan (played by Morgan Fairchild).