| | |
| --- | --- |
| Character sourced from: Gaming | |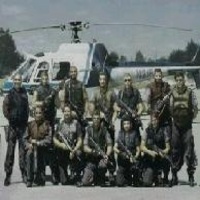 S.T.A.R.S.
CBUB Wins: 1
CBUB Losses: 4
Win Percentage: 20.00%
Added by: dead.reckoning
Read more about S.T.A.R.S. at: Wikipedia
Official Site: Capcom
Resident Evil, known as in Japan, is a video game series and media franchise consisting of comic book, novelizations, films, and a variety of collectible, including action figure, strategy guide and publications. Developed by Capcom and created by Shinji Mikami, the series has sold almost 40 million games as of May 2009.
Resident Evil made its 1996 debut on the Sony PlayStation and later on the Sega Saturn. It was a critical and commercial success, leading to the production of two sequels, Resident Evil 2 in 1998 and Resident Evil 3: Nemesis in 1999, both for the PlayStation. A port of Resident Evil 2 was released for the Nintendo 64. In addition, ports of all three were released for Windows. The fourth game in the series, Resident Evil Code: Veronica, was developed for the Sega Dreamcast and released in 2000, followed by ports of 2 and 3. Resident Evil Code: Veronica was later re-released for Dreamcast in Japan in an updated form as Code: Veronica Complete, which included slight changes, many of which revolved around story cut scenes. This updated version was later ported to PlayStation 2 and Nintendo GameCube under the title Code: Veronica X.
Despite earlier announcements that the next game in the series would be released for the PlayStation 2, which resulted in the creation of an unrelated game titled Devil May Cry, series' creator and producer Shinji Mikami decided to make the series exclusively for the Nintendo GameCube. The next three games in the series—a remake of the original Resident Evil and the prequel Resident Evil Zero, both released in 2002, as well as Resident Evil 4—were all released initially as GameCube exclusives. Resident Evil 4 was later released for Windows, PS2 and Wii. In addition, the GameCube received ports of the previous Resident Evil sequels. Despite this exclusivity agreement between Capcom and Nintendo, Capcom released several Resident Evil titles for the PS2 that were not considered direct sequels.
A trilogy of GunCon-compatible light gun games known as the Gun Survivor series featured first person gameplay. The first, Resident Evil: Survivor, was released in 2000 for the PlayStation and PC, but received mediocre reviews. The subsequent games, Resident Evil: Survivor 2 Code: Veronica and Resident Evil: Dead Aim, fared somewhat better. Dead Aim is actually the fourth Gun Survivor game in Japan, with Gun Survivor 3 being the Dino Crisis spin-off Dino Stalker. In a similar vein, the Chronicles series features first person gameplay, albeit on an on-rails path. Resident Evil: The Umbrella Chronicles was released in 2007 for the Wii, with a follow up, Resident Evil: The Darkside Chronicles released in 2009.
No match records for this character.