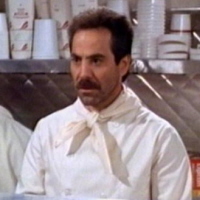 The Soup Nazi
CBUB Wins: 6
CBUB Losses: 9
Win Percentage: 40.00%
Added by: dustinprewitt
Read more about The Soup Nazi at: Wikipedia
Official Site: NBC
"The Soup Nazi" is the title of the 116th episode of the NBC sitcom Seinfeld, which was the 6th episode of the 7th season. It first aired in the United States on November 2, 1995.
The Soup Nazi is also the nickname of the titular character played by Larry Thomas. The term "Nazi" is used as an exaggeration of the excessively strict regimentation he constantly demands of his patrons.
When Jerry and George get to the soup stand, George follows the procedure but notices that he did not get the free bread with his soup order. Jerry tells him to let it go, but George asks for some, and is told he will have to pay $2 for it. When George objects, claiming that everybody in front of him got free bread, he is told that the price for bread is now "THREE dollars!" When George continues to protest, he quickly has his money returned and his soup is brusquely taken back, with the catchphrase "No soup for you!"
Over the past weeks, Jerry has been annoying George and Elaine with his open affection and baby talk (calling each other "Schmoopie") with his new girlfriend Sheila (Alexandra Wentworth). During another visit to the soup stand, when Sheila will not stop kissing Jerry in the line of customers, the Soup Nazi orders her out of the line, and Jerry is forced to pretend he does not know her. When George finds out, he admits his annoyance with their "baby talk" romantic behavior to Jerry. Jerry later tells Sheila he was just joking at the soup stand and makes up with her. When George finds out, he begins to act similarly with Susan to make a point. Susan misinterprets George's intentions and thinks that George is finally enjoying showing his feelings in public, continuing to act that way after Jerry again breaks up with Sheila.