| | |
| --- | --- |
| Character sourced from: Toons | |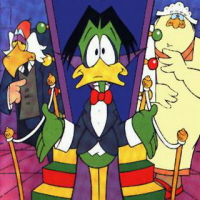 Count Duckula
CBUB Wins: 0
CBUB Losses: 2
Win Percentage: 0%
Added by: dustinprewitt
Read more about Count Duckula at: Wikipedia
Official Site: Cosgrove-Hall
Count Duckula is a British animated television series created by British studio Cosgrove Hall, and a spin-off from DangerMouse, a show in which the Count Duckula character was a recurring villain. The series first aired on September 6, 1988 and was produced by Thames Television for 3 seasons and Central Television for the fourth and final series. In all, 65 episodes were made, each about 22 minutes long. All 65 episodes have been released to DVD in Region 2, while only the first series has been released in Region 1. Both the series as well as its characters continue to have a large following on the internet.
The show is a loose parody of the story of Count Dracula. Set in Transylvania, Duckula lives in a spooky castle known as Castle Duckula, alongside his butler Igor, and his large nanny (always referred to as "Nanny" and perpetually wearing an arm sling). Almost all of the characters in the show are anthropomorphised birds.
The story (as shown in the title sequence each episode) is that Duckula has been active as a vampire for centuries. He could only be destroyed by exposure to sunlight or by a wooden stake thrust through his heart. In fact, Duckula has died numerous deaths — but he always returns through a mystic ritual, performed once a century, "when the moon is in the Eighth House of Aquarius" (The opening credits depict Igor's incantation). Several episodes explore the theme that each resurrection creates a new incarnation with little to no memory of its past life; thus, every incarnation is free to develop its own personality and pursue its own personal interests. The vampire is thus able to pose as a "dreadful dynasty," the Counts of Duckula. The preceding generations included knight, sorcerers, scientist, artist, Egyptologists and even professional gamblers, all of whom were also secretly "vicious vampire ducks".
Yet, as the title sequence put it, "the latest reincarnation did not run according to plan." The successful conclusion of the ritual requires blood, the source of sustenance for any vampire, but Nanny accidentally substituted tomato ketchup. Consequently, the newest version is not a blood-sucking vampire, but a vegetarian one. He is more interested in juicy carrot than hunting for victims. Naturally, Igor is appalled at this. Even worse, his "new" master is obsessed with pursuing wealth and fame as an entertainer.
No match records for this character.