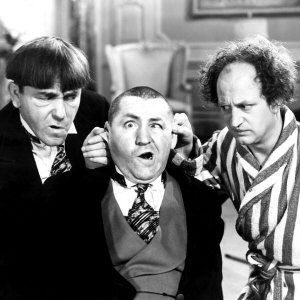 The Three Stooges
CBUB Wins: 8
CBUB Losses: 5
Win Percentage: 61.54%
Added by: dustinprewitt
Read more about The Three Stooges at: Wikipedia
Official Site: Official Site
The Three Stooges were an American vaudeville and comedy act of the early to mid–20th century best known for their numerous short subject films. Their hallmark was physical farce and extreme slapstick. In films, the Stooges were commonly known by their first names: "Moe, Larry, and Curly" and "Moe, Larry, and Shemp," among other lineups. The film trio was originally composed of Moe Howard, brother Shemp Howard and Larry Fine. Curly Howard replaced brother Shemp, who later returned when Curly suffered a debilitating stroke in May 1946.
After Shemp's death from a heart attack in November 1955, he was replaced by comedian Joe Besser, after the use of film actor Joe Palma to film four Shemp-era shorts. Ultimately, Joe DeRita (nicknamed "Curly Joe") replaced Joe Besser by 1958. The act regained momentum throughout the 1960s as popular kiddie fare until Larry's paralyzing stroke in January 1970 effectively marked the end of the act proper. Moe tried unsuccessfully one final time to revive the Stooges with longtime supporting actor Emil Sitka filling in for Larry. Larry ultimately succumbed to a series of additional strokes in January 1975, followed by Moe, who died of lung cancer in May 1975.
The Three Stooges started in 1925 as part of a raucous vaudeville act called 'Ted Healy and His Stooges' (a.k.a. 'Ted Healy and His Southern Gentlemen', 'Ted Healy and His Three Lost Souls' and 'Ted Healy and His Racketeers'—the moniker 'Three Stooges' was never used during their tenure with Healy). In the act, lead comedian Healy would attempt to sing or tell joke while his noisy assistants would keep "interrupting" him. Healy would respond by verbally and physically abusing his stooges. Brothers Moe and Shemp were joined later that year by violinist-comedian Larry Fine, and Fred Sanborn joined the group as well.
In 1930, Ted Healey and His Stooges (including Sanborn) appeared in their first Hollywood feature film, Soup to Nuts, released by Fox Film Corporation. The film was not a success with the critics, but the Stooges' performances were singled out as memorable, leading Fox to offer the trio a contract minus Healy. This enraged the prickly Healy, who told studio executives that the Stooges were his employees. The offer was withdrawn, and after Howard, Fine and Howard learned of the reason, they left Healy to form their own act, which quickly took off with a tour of the theatre circuit. Healy attempted to stop the new act with legal action, claiming they were using his copyrighted material. There are accounts of Healy threatening to bomb theaters if Howard, Fine and Howard ever performed there, which worried Shemp so much that he almost left the act; reportedly, only a pay raise kept him on board. Healy tried to save his act by hiring replacement stooges, but they were inexperienced and not as well-received as their predecessors. In 1932, with Moe now acting as business manager, Healy reached a new agreement with his former Stooges, and they were booked in a production of Jacob J. Shubert's The Passing Show of 1932. During rehearsals, Healy received a more lucrative offer and found a loophole in his contract allowing him to leave the production. Shemp, fed up with Healy's abrasiveness, decided to quit the act and found work almost immediately, in Vitaphone movie comedies produced in Brooklyn, New York.



Images with a green border may be set as the character's main profile image.
For images 200x200 or 300x300 pixels square.