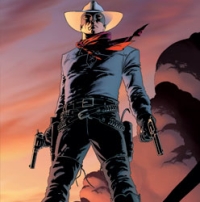 The Lone Ranger
CBUB Wins: 2
CBUB Losses: 2
Win Percentage: 50.00%
Added by: Kangatron
Read more about The Lone Ranger at: Wikipedia
Official Site: Dynamite Comics
The Lone Ranger is an American radio and television show created by George W. Trendle and developed by Fran Striker.
The title character is a mask Texas Ranger in the American Old West, originally played by George Seaton (radio), but more famously by Clayton Moore (television), who gallops about righting injustices with the aid of his clever, laconic Native American companion, Tonto. Tonto usually referred to the Lone Ranger as Kemo Sabe, meaning "trusty scout" . Departing on his white horse Silver, the Ranger would shout "Hi-yo, Silver, away!" as the horse galloped toward the setting sun, followed by someone asking "Who was that masked man, anyway?" "Why he's the Lone Ranger." The sayings, as well as the theme music from the William Tell Overture, are indelibly stamped in the memories of millions of Americans (and Britons) who came of age during the decades of the show's initial popularity or viewed the television series run nearly continuously for past fifty years. Reruns of the Lone Ranger as portrayed by Clayton Moore are still telecast today (August, 2010) sixty-one years after their production and initial broadcast. The character has become an icon of American culture.
The first of 2,956 radio episodes of The Lone Ranger premiered January 30, 1933, on WXYZ Detroit, Michigan; next on the Mutual Broadcasting System radio network; and finally on NBC's Blue Network, which became ABC. The last new episode was broadcast September 3, 1954. Elements of the Lone Ranger story were first used in an earlier series Fran Striker wrote for a station in Buffalo, New York. Each episode was introduced with the announcer's words: "In the early days of the western United States, a masked man and an Indian rode the plains, searching for truth and justice. Return with us now to those thrilling days of yesteryear, when from out of the past come the thundering hoofbeats of the great horse, Silver. The Lone Ranger rides again."
The theme music was the "March of the Swiss Soldiers" finale of Gioachino Rossini's William Tell Overture, now inseparably associated with the series, which also featured many other classical selections as incidental music, including Bizet , Mendelssohn Fingal's Cave Overture, Liszt Les Preludes, Resnicek Donna Dianna Overture, and Schubert . The theme was conducted by Daniel Perez Castaneda.











Images with a green border may be set as the character's main profile image.
For images 200x200 or 300x300 pixels square.