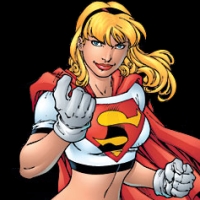 Linda Danvers
CBUB Wins: 1
CBUB Losses: 2
Win Percentage: 33.33%
Added by: Lord Greystroke
Read more about Linda Danvers at: Wikipedia
Official Site: DC Comics
Linda Danvers, formerly known as Supergirl, is a fictional character, a comic book superhero published by DC Comics. She debuted in Supergirl #1 (September 1996), and was created by Peter David and Gary Frank. She is not to be confused with Linda Lee Danvers, the secret identity used by the Kara Zor-El incarnation of Supergirl prior to the events of 1985's Crisis on Infinite Earths.
Linda Danvers (daughter of policeman Fred Danvers and his wife Sylvia) began her life in a less-than-heroic fashion. Lured into a world of darkness by her boyfriend Buzz, Linda was involved in many illicit and illegal activities. Little did she know that she was intended to be a sacrifice for a demonic cult Buzz worked for. Buzz slashed her with a dagger to use her blood to release a demon into the world, but Matrix, the protoplasmic Supergirl, intervened. She used her shape-shifting powers to try plugging the gaping wounds on Linda, but instead became fused with Linda. Linda and Matrix became a new Supergirl. Armed with newfound superhuman abilities and the power to change from ordinary Linda Danvers into tall Supergirl, Linda began to fight crime and demonic activity, and redeem her darkened soul. She was hesitant to reveal her situation to her adoptive "brother" Superman, fearing his reaction to her co-opting a human life, but he accepted the change. Further complicating the situation was the revelation that Matrix's sacrifice in attempting to save Linda transformed her and Linda into the Earth-born Angel of Fire.
When Linda became an Earth-born Angel (one of three), she developed wings of flame and flame vision. She discovered that she could teleport in a S-shaped burst of flame. She used her powers to fight demons and dark gods, and even her fellow Earth-born Angel Blithe. She met an angelic ally, the equine Comet, who was revealed to be her friend, Andrea Jones, and the Angel of Love, born in an accident in an ice cavern. Stranger still, Linda began to encounter a young boy named Wally, who claimed to be what is known in the DC Universe as the Presence (his name, he explained, was a variation on "Yahweh," the Hebrew name for God). Wally helped Linda through her strange transformations, especially when her wings changed from angelic to bat-like. Linda also found herself fighting a superhuman named Twilight, whose dark powers were almost strong enough to overpower Linda's angelic abilities. Her greatest challenge came when Linda was captured by a strangely Wally-like man, who was the Carnivore, the first vampire. She defeated him, with the help of an angel figure, simply called "Kara". In her defeat of Carnivore, her Matrix side was ripped away, leaving Linda alone once again.
After the split, Linda retained half of the super-strength and invulnerability she had when fused with Matrix/Supergirl and could only leap 1/8th of a mile. Using some items from a costume shop, Linda created a white, blue, and red Supergirl costume (the same costume used by the animated version of Supergirl in Superman: The Animated Series) and acted as Supergirl, while searching for Matrix, with the help of her demonic ex-boyfriend Buzz and fellow superhero Mary Marvel. Even with diminished abilities, she was still powerful enough to stop Bizarro, and even found herself fighting a Bizarro Supergirl. Linda's search led her to the Amazon, where Matrix was held prisoner by Lilith, the mother of all demons, who had sent Twilight after Supergirl, holding Twilight's sister hostage to keep her under her evil control. Lilith fatally injured Mary Marvel, Twilight, and Linda, but not before Matrix was freed from Lilith's prison. Linda asked Matrix to merge with Twilight, and Twilight became the new Angel of Fire in the process, using her powers to heal Mary and Linda, thus giving Linda all the powers she'd had when she was merged with Matrix. At this point, Matrix passed the Supergirl mantle on to Linda.
No match records for this character.