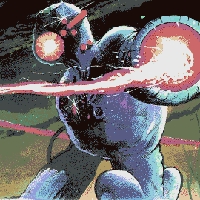 Fury (Marvel Comics)
CBUB Wins: 5
CBUB Losses: 2
Win Percentage: 71.43%
Added by: damnedyankee
Read more about Fury (Marvel Comics) at: Wikipedia
Official Site: Marvel Comics
The Fury is a fiction character created by writer Alan Moore and illustrator Alan Davis as an antagonist for the Marvel Comics hero Captain Britain. The character was later revisited by writer Chris Claremont, who used the Fury as an opponent for the X-Men.
The Fury is a deadly "cybiote" (presumably an android or cyborg, flesh and metal) built by the reality-manipulating psychic Mad Jim Jaspers of the parallel timeline of Earth-238 in order to destroy all superhuman but himself. It is physically powerful, capable of generating lethal energy blasts and of adapting and regenerating its mechanical body. Like most of Jim Jaspers' other homicidal agents, the Fury was named for a minor character in Alice's Adventures in Wonderland:
The Fury slew all of Earth-238's superhero, with the exception of Captain UK, who fled to another world at the moment that the Fury killed her husband Rick. Most of the Fury's victims on Earth-238 were based on British comic book characters from the 1950s-1970s. After succeeding in its mission, the Fury was deactivated until Captain Britain and his elflike sidekick Jackdaw were sent to Earth-238 by the Captain's mythic mentor Merlyn. Jaspers had his agents, the Status Crew, reactivate the Fury and send it to kill the hero. The Fury murdered Jackdaw, and then killed Captain Britain himself.
The Captain was retrieved by Merlyn and revived in the alien magician's home dimension, Otherworld. The Fury detected that its prey again lived, and began to adapt itself to interdimensional travel in order to hunt him down. Meanwhile, the temporal overseer Mandragon destroyed Earth-238 in order to kill Jaspers; the Fury only barely escaped to Captain Britain's native world, Earth-616. There, the Fury killed several more of Captain Britain's allies, finally confronting Earth-616's counterpart of Mad Jim Jaspers, who was beginning to organize a program against his own world's superhumans. The Fury determined that this Jaspers was not its creator and therefore was not exempt from its directive to kill superhumans. The two fought, but the Fury won when it transported the pair to the empty void that had been Earth-238. Jaspers was unable to use his powers of reality manipulation in a universe where reality had been destroyed, and the Fury swiftly lobotomized him. The weakened Fury returned to Earth-616, where it was ambushed and torn apart by Captain UK, sustaining more damage in the process than it could regenerate.