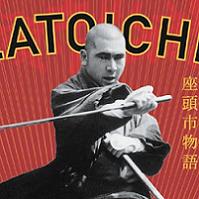 Zatoichi the Blind Swordsman
CBUB Wins: 4
CBUB Losses: 3
Win Percentage: 57.14%
Added by: KiZeR
Read more about Zatoichi the Blind Swordsman at: Wikipedia
Official Site: Daiei Motion Picture Company
is a fictional character featured in one of Japan's longest running series of film and a television series set in the Edo period. The character, a blind masseur and swordmaster, was created by novelist . This originally minor character was developed for the screen by Daiei Studios (now Kadokawa Pictures) and actor Shintaro Katsu, who created the screen version. A total of 26 films were made from 1962 to 1989. From 1972 to 1974, a television series of the same name was made. One hundred and twelve episodes were aired before the "Zatoichi" television series was cancelled.[http://www.momii.com/zatoichi/]
Film number 17 of the original series was remade in America in 1990 (by TriStar Pictures) as Blind Fury, an action movie starring Rutger Hauer.
More recently, Takeshi Kitano directed and starred in a 2003 Zatoichi movie. Show Aikawa also starred in a stage version of Zatoichi, directed by Takashi Miike .
Zatoichi at first appears to be a harmless blind anma (masseur) and bakuto (gambler) who wanders around the country, making his living by Chō-han (playing dice) as well as giving massages, performing acupuncture, singing and playing music; however, secretly, he is also highly-skilled in swordsmanship, specifically iaido and is equally skilled in the general sword skills of Japan, as well as Sumo wrestling. Little of his past is revealed; the reason for his blindness and how he developed his incredible swordsmanship are unknown.
No match records for this character.