| | |
| --- | --- |
| Character sourced from: Horror | |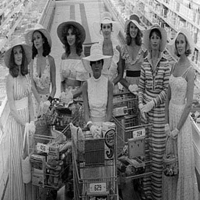 The Stepford Wives
CBUB Wins: 0
CBUB Losses: 2
Win Percentage: 0%
Added by: wishtiger
Read more about The Stepford Wives at: Wikipedia
Official Site: Sony Pictures
The Stepford Wives is a 1975 science fiction-thriller film based on the 1972 Ira Levin novel of the same name. It was directed by Bryan Forbes with a screenplay by William Goldman, and stars Katharine Ross, Paula Prentiss, Peter Masterson, Nanette Newman and Tina Louise. The film was remade in 2004 under the same name, but was written as a comedy versus a serious horror/thriller film.
While the film was only a moderate success at the time of release, it has grown in stature as a cult film over the years. Building upon the reputation of Levin's novel, the term "Stepford Wife" has become a popular science fiction concept and several sequels were shot, as well as the remake of the film in 2004.
Joanna Eberhart (Katharine Ross) is a young wife who moves with her husband Walter (Peter Masterson) and two children from New York City to the idyllic Connecticut suburb of Stepford. Loneliness quickly sets in as Joanna, a mildly rebellious aspiring photographer, finds the women in town all look great and are obsessed with housework, but have few intellectual interests. The men all belong to the clubbish Stepford Men's Association, which Walter joins to Joanna's dismay. Neighbor Carol Van Sant's (Nanette Newman) sexually submissive behavior to her husband Ted, and her odd, repetitive behavior after a car accident also strike Joanna as unusual.
Things start to look up when she makes friends with another newcomer to town, sloppy, irrepressible Bobbie Markowe (Paula Prentiss). Along with glossy trophy wife Charmaine Wimperis (Tina Louise), they organize a Women's Lib consciousness raising session, but the meeting is a failure when the other wives hijack the meeting with cleaning concerns. Joanna is also unimpressed by the boorish Men's Club members, including intimidating president Dale "Diz" Coba (Patrick O'Neal); stealthily, they collect information on Joanna including her picture, her voice, and other personal details. When Charmaine turns overnight from a languid, self-concerned tennis fan into an industrious, devoted wife, Joanna and Bobbie start investigating, with ever-increasing concern, the reason behind the submissive and bland behavior of the other wives, especially when they learn they were once quite supportive of liberal social policies.
No match records for this character.