| | |
| --- | --- |
| Character sourced from: Sci-Fi | |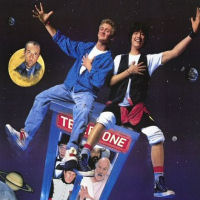 Bill & Ted
CBUB Wins: 8
CBUB Losses: 9
Win Percentage: 47.06%
Added by: Whiplash47
Read more about Bill & Ted at: Wikipedia
Official Site: Creative Licensing Corporation
Bill & Ted's Excellent Adventure is a 1989 American science fiction–comedy buddy film in which two metalhead slackers travel through time in order to assemble a menagerie of historical figures for their high school history presentation.
The film was written by Chris Matheson and Ed Solomon and directed by Stephen Herek. It stars Keanu Reeves as "Ted" Theodore Logan, Alex Winter as Bill S. Preston, Esquire, and George Carlin as Rufus.
The film opens in San Dimas, California in the year 2688 AD. Rufus (George Carlin) prepares to use a time-traveling phone booth to travel back to 1988 to ensure the Two Great Ones–Bill S. Preston, Esq. (Alex Winter) and Theodore "Ted" Logan (Keanu Reeves)–remain together to form the band "Wyld Stallyns", whose music will become the core of the future's Utopian society. Rufus finds that Bill and Ted are on the verge of failing their high school history class, and, should Ted fail, his father, Police Captain Logan (Hal Langdon) will ship him off to an Alaskan military academy, effectively ending the pair's dreams of forming a band.
As the two try to write a history report by asking customers questions at a local Circle K, Rufus lands in the phone booth and introduces himself to them. Though Bill and Ted are skeptical of Rufus's claims, they are convinced when future versions of themselves land nearby and explain the situation to them. Rufus reveals to Bill and Ted the secrets of the Circuits of History, which can transport the user anywhere in time. Rufus briefly takes the pair to Austria in 1805 where they find Napoleon Bonaparte (Terry Camilleri), who is preparing to lead his French Imperial Forces into battle. Returning to the present Rufus leaves the two with the phone booth, stating that Bill and Ted will be able to travel anyplace in time, but only as long as they deliver their history report on-time. Discovering that the pair also brought Napoleon back to the present with them, Bill & Ted form an idea for their report to go back in time, kidnap other historical figures and have them explain what they think of the San Dimas of the present. Bill & Ted leave Napoleon with Ted's younger brother, Deacon (Frazier Bain), while they travel to the past to complete their report.