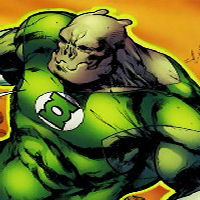 Kilowog
CBUB Wins: 1
CBUB Losses: 1
Win Percentage: 50.00%
Added by: Lord Greystroke
Read more about Kilowog at: Wikipedia
Official Site: DC Comics
Kilowog is a fictional superhero from DC Comics, and a member of the Green Lantern Corps.
A towering alien with a brutish and porcine appearance, Kilowog is renowned throughout the Green Lantern Corps as the primary trainer of the Corps' newest recruits. The Guardians of the Universe recruited Kilowog, a gifted genetic scientist, from the planet Bolovax Vik, located in Space Sector 674. Kilowog was trained by Lantern Ermey, who would often use the word "Poozer", which meant "useless rookies" (A word Kilowog would later adopt, albeit in a friendlier way). In the middle of a particularly arduous training session, Ermey had Kilowog and his fellow rookies help stop an attack on a group of Lanterns, one of whom was the future renegade Sinestro. Ermey, fatally wounded in battle, commended Kilowog on his abilities, telling him that he had the makings of a great leader. In addition to serving with distinction as the Green Lantern of that sector, Kilowog also began to spend extensive periods of time on the Green Lantern Corps' home planet of Oa instructing new recruits on how to handle and best utilize their power rings. In this capacity, Kilowog acted as the first trainer to a young Hal Jordan, the ring-recruited successor to the slain Abin Sur of Ungara, the Green Lantern of Space Sector 2814. Kilowog and his new recruit helped the Guardians confront Abin Sur's murderer, the hive mind interstellar malefactor known as Legion.
During the Crisis on Infinite Earths (referred to as a "great crisis"), Bolovax Vik was destroyed. This was a powerful blow to the giant Green Lantern, as his race lived a highly communal lifestyle, and to be alone was one of the worst things imaginable. Owing somehow to this genetic similarity to and affinity for each other that all Bolovax Vikians possessed, Kilowog was able to rescue the entire population of his homeworld (billions of beings) by storing their collective life essences within his ring upon that world's annihilation.
The Crisis saw the immortal Guardians ethically divided (a faction of six Guardians broke away from the majority, deciding to follow the example of their estranged brethren The Controllers and create their own Green Lanterns to directly combat the Anti-Monitor, but five of them were killed shortly after they chose their first and only recruit, Guy Gardner of Earth) and their ranks depleted for the first time in millions of years (only 22 of the 36 Guardians survived). The Corps as well suffered hundreds of casualties. The Guardians then decided to end their direct leadership of the Corps, and left for another dimension with their former mates, the Zamaron.


Images with a green border may be set as the character's main profile image.
For images 200x200 or 300x300 pixels square.
No match records for this character.