| | |
| --- | --- |
| Character sourced from: Horror | |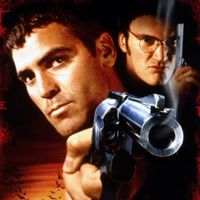 The Gecko Brothers
CBUB Wins: 1
CBUB Losses: 7
Win Percentage: 12.50%
Added by: RazorKlaw
Read more about The Gecko Brothers at: Wikipedia
Official Site: Miramax
From Dusk till Dawn is a 1996 action-comedy horror film directed by Robert Rodriguez and written by Quentin Tarantino. The movie stars George Clooney, Harvey Keitel, Quentin Tarantino and Juliette Lewis.
The film opens with a Texas police officer entering a local convenience store. He chats with the clerk a little while about fugitive bank robbers and brothers Seth (George Clooney) and Richie Gecko (Quentin Tarantino) who are fleeing the F.B.I. and Texas police. When the officer goes to use the bathroom it is revealed that Seth and Richie are hiding in the store and are forcing the clerk to pretend that everything is okay. After being discovered they kill the store clerk and the officer during the ensuing firefight. The two flee to a nearby hotel where they wait while figuring out how they will cross the border into Mexico where a contact has offered to hide them. At this point it is revealed that they have a hostage from the bank robbery, a female teller, in the trunk of their car. While Seth is out, Richie, the more unstable of the two brothers, rapes and murders the hostage.
A vacationing family, Jacob (Harvey Keitel), the father, a pastor who is experiencing a crisis of faith, his stepson Scott (Ernest Liu) and his daughter Kate (Juliette Lewis) are staying in the room next to the Gecko brothers. Realizing that the families recreational vehicle can be used to get them across the border, the brothers kidnap the family. Seth and Jacob make an uneasy truce: if the Geckos can make it past the border, Jacob and his family will come out of the ordeal unharmed. After a brief scare at a border checkpoint, they succeed in entering Mexico and arrive at the "Titty Twister", a strip club in the middle of a desolate part of Mexico, where the Geckos will be met by their contact Carlos (Cheech Marin) at dawn.
The group is initially rebuffed at the door by the doorman, Chet Pussy (Cheech Marin), and Seth, overreacting, attacks him before entering the club. Inside, they are again confronted and ordered to leave by the bartender (Danny Trejo), who states that only bikers and truckers are allowed to drink at the bar. Jacob defuses the situation by showing him his driver's license, which has a trucker rating due to Jacob's possession of an RV. Seth, in a frustrated and angry demeanor, begins drinking heavily, encouraging the entire group to do the same. Richie drinks as well and takes special notice of the club's star performer, Satánico Pandemónium (Salma Hayek) during an extended solo performance. Unfortunately, after the performance, Chet Pussy and some others approach the group, looking to settle the score with the Geckos. In a short confrontation, Richie is stabbed in his already wounded hand, and as he bleeds, he is attacked by a transformed Satánico, now revealed as a vampire.
No match records for this character.