| | |
| --- | --- |
| Character sourced from: Gaming | |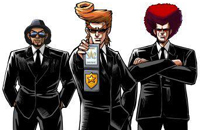 The Elite Beat Agents
CBUB Wins: 1
CBUB Losses: 3
Win Percentage: 25.00%
Added by: lemming
Read more about The Elite Beat Agents at: Wikipedia
Official Site: iNiS
Elite Beat Agents is a music video game developed by iNiS and published by Nintendo for the Nintendo DS handheld game console. It was first released in North America, and has since been released in Europe and South Korea . It is the spiritual sequel to Osu! Tatakae! Ouendan, a Japanese rhythm game released in 2005, sharing many common elements with it. Similar to Ouendan, the player taps and drags on indicated locations on the touch screen of the DS in time to the rhythm of the music to score points, while the upper screen shows comic-style scenes of the fictional "Elite Beat Agents" cheering on others in tough situations through their dance moves. The improvements made in this game were implemented in the Japanese game's sequel, Moero! Nekketsu Rhythm Damashii Osu! Tatakae! Ouendan 2.
Elite Beat Agents was released under Nintendo's Touch! Generations label in North America, which markets games to audiences outside of the traditional gaming community. Though sales were not as high as expected, the game was well received by critics and merited several 2006 gaming awards.
The main characters of Elite Beat Agents are members of a fictional government agency responsible for helping those in need. When someone facing a crisis reaches their breaking point and cries out for help, Commander Kahn dispatches the agents to help them succeed. The agents never assist the person directly, but encourage the person through their dancing, motivating the people they assist to overcome various obstacles. The person's degree of success depends on the accuracy of the Agents' dance moves, as demonstrated by multiple endings for each story.
Like Ouendan, the tone of the stories told in Agents is primarily humorous. The individual stories are not linked by an overarching narrative; though some characters take part in multiple stories, there are unique protagonists for each song. Although the first few stage scenarios are fairly mundane, such as helping a babysitter control a trio of rowdy children while trying to ask a potential boyfriend to go steady, they progressively become more fantastic. For example, one of the last stages is about a washed-up professional baseball player who rescues one of his young fans from, and subsequently battles with baseball equipment and techniques, a fire-breathing golem in a theme park. The one notable difference to this trend in the game is the stage "A Christmas Gift", in which the agents assist a young girl in reuniting with the spirit of her deceased father. This shift in tone is further marked by the game's "clap" gameplay sound effect being replaced with more subtle chimes accompanying the stage song, "You're the Inspiration".
No match records for this character.