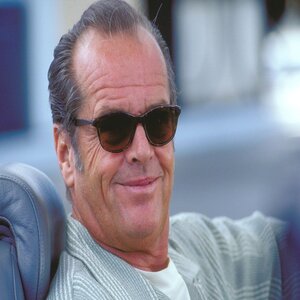 Melvin Udall
CBUB Wins: 1
CBUB Losses: 2
Win Percentage: 33.33%
Added by: Z451
Read more about Melvin Udall at: Wikipedia
Official Site: Sony Pictures
As Good as It Gets is a 1997 American romantic comedy film directed by James L. Brooks, who co-wrote it with Mark Andrus. The film stars Jack Nicholson as a misanthropic and obsessive-compulsive novelist, Helen Hunt as a single mother with a chronically ill son, and Greg Kinnear as an artist who is gay. The paintings were created for the film by New York artist Billy Sullivan. The film was released in theaters on December 23, 1997, and was a box office hit, grossing $314.1 million on a $50 million budget.
Nicholson and Hunt won the Academy Award for Best Actor and Best Actress, respectively, making As Good as It Gets the most recent film to win both of the lead acting awards, and the first since 1991's The Silence of the Lambs. It was also nominated for Best Picture but ultimately lost to Titanic. It is ranked 140th on Empire magazine's "The 500 Greatest Movies of All Time" list.
Melvin Udall is a misanthropic best-selling romance novelist in New York City, whose obsessive–compulsive disorder has him avoiding stepping on sidewalk cracks while walking through the city, and eating breakfast at the same table in the same restaurant every day. He takes an interest in his waitress, Carol Connelly, the only server at the restaurant who can tolerate his uncouth behavior.
One day, Simon Bishop, a gay artist and Melvin's apartment neighbor, is assaulted and nearly killed during a robbery. Melvin is intimidated by Simon's agent, Frank Sachs, into caring for Simon's Griffon Bruxellois, Verdell, while he is hospitalized. Although he initially does not enjoy caring for the dog, Melvin becomes emotionally attached to it. He simultaneously receives more attention from Carol. When Simon is released from the hospital, Melvin is unable to cope emotionally with returning the dog. Melvin's life is further altered when Carol decides to work closer to her home in Brooklyn so she can care for her acutely asthma son Spencer. Unable to adjust to a different waitress, Melvin arranges through his publisher (whose husband is a doctor) to pay for her son's considerable medical expenses as long as Carol agrees to return to work. She is overwhelmed but skeptical of his generosity.
No match records for this character.