| | |
| --- | --- |
| Character sourced from: Sci-Fi | |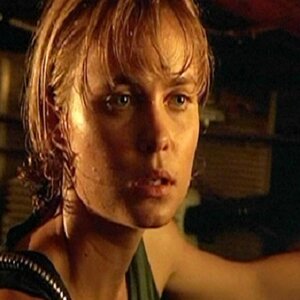 Carolyn Fry
CBUB Wins: 1
CBUB Losses: 2
Win Percentage: 33.33%
Added by: Z451
Read more about Carolyn Fry at: Wikipedia
Official Site: Universal Pictures
Pitch Black (titled The Chronicles of Riddick: Pitch Black on its DVD re-release) is a 2000 American science fiction action horror film co-written and directed by David Twohy. The film stars Vin Diesel, Radha Mitchell, Cole Hauser, and Keith David. Dangerous criminal Richard B. Riddick (Diesel) is being transported to prison in a spacecraft. When the spaceship is damaged by comet debris and makes an emergency crash landing on an empty desert planet, Riddick escapes. However, when predatory alien creatures begin attacking the survivors, Riddick joins forces with the surviving crew and other passengers to develop a plan to escape the planet.
Pitch Black was the final film credit of PolyGram Filmed Entertainment, which merged with Universal Pictures during production. It was shot on a modest budget of US$23 million. Despite mixed reviews from critics, it was a sleeper hit, grossing over $53 million worldwide and developing its own cult following, particularly around the antihero Riddick. A sequel, The Chronicles of Riddick, was released in 2004 by Universal, with Diesel back as the title character and Twohy returning as writer and director. A third film, simply titled Riddick, was released in 2013, with Diesel and Twohy reuniting again.
In the distant future, the spaceship Hunter-Gratzner is transporting passengers in cryostasis. Among those are a Muslim preacher who goes by the title of Imam, accompanied by three young sons, traveling to New Mecca; a teenager named Jack; a pair of prospectors named Shazza and Zeke; a merchant named Paris; and a law enforcement officer, William J. Johns, who is escorting the notorious criminal Richard B. Riddick. Riddick has surgically modified eyes that allow him to see in the dark but are highly sensitive to light.
The group explores their surroundings, noticing that the three suns surrounding the planet keep it in perpetual daylight. They find an abandoned geological research settlement, with a water well and a dropship with drained batteries. Zeke is killed but his body is missing and Riddick is immediately suspected. While searching for Zeke's body, Fry barely escapes from photosensitive aggressive underground creatures. Johns offers Riddick a deal: if he helps them escape the planet, he'll go free.
No match records for this character.